 MVP Application Development Services
Now build and launch solutions rapidly with Vizteck Solutions using our state-of-the-art technology and expert team.
Trusted by:
Our High-Impact MVP Development Services
Now Align MVP with your goals and build high-impact solutions that analyze and collect feedback from your esteemed clients.
Clickable Prototype Development
Vizteck Solutions favors a clickable MVP to bring all the stakeholders on the same page before we get started.
Full MVP Development
A fully functional MVP (Minimum Viable Product) is a product that has the minimum set of features necessary to be usable and valuable to early adopters, and has been refined and improved based on feedback from those early adopters.
Our Working Process
Our Working Process
Refining Objectives and Platform Selection
The first step is simple, refine and set your objectives, and do a through platform selection.
Build a Prototype or Proof Of Concept
Once the core features have been identified, the next step is to build a prototype or proof of concept. This can be a low-fidelity prototype, such as a wireframe or mockup, or it can be a functional prototype with limited functionality.
Gather Feedback From Early Adopters
After the prototype has been built, the next step is to gather feedback from a small group of early adopters. This can be done through user testing, focus groups, or other methods.
Iterate and improve
Based on the feedback gathered from early adopters, the MVP can be iterated on and improved. This may involve adding additional features, improving the user experience, or making other changes based on the feedback received.
Launch the MVP
Once the MVP has been refined and improved based on feedback from early adopters, it is ready for a wider release. This may involve launching the MVP to a larger group of users, or releasing it to the general public.
Gather additional feedback
Even after the MVP has been launched, it is important to continue gathering feedback from users in order to make informed decisions about how to iterate and improve the product. This may involve conducting additional user testing, analyzing usage data, or gathering feedback through other methods
Case Studies
Looking for a team who could help you meet your app development requirements? Here's how we have helped various entrepreneurs in their journey.
BusRoute
Busroute.co offers bus booking and coach booking services in Uk. Like any business, they were operating using excel sheets. Vizteck started complete automation for its backend customer relationship management and supplier connections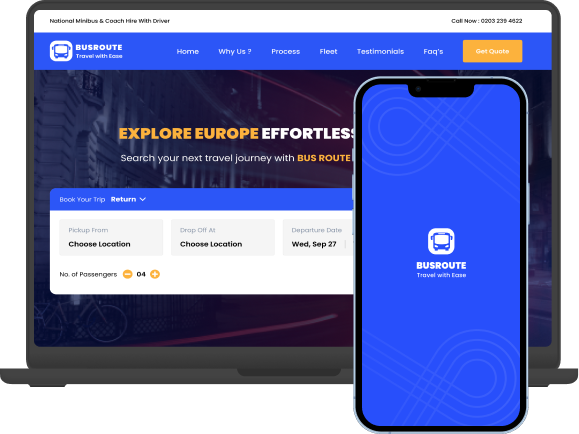 EaseFix
Easefix is a handyman, plumber, electrician, and platform for finding trades servicemen of all types. The platform is currently targeting the UK market. Vizteck Solutions created the app to find workers, workers bid on the job. A complete SEO-optimized website was also created to generate leads for the business via the website. All website leads directly go into the worker's applications to bid on.