 Frontend App Development Company
Our team at Vizteck offers top-notch frontend development services that are tested to perfection.
Trusted by:
Frontend App Development Services
Get the most out of your software through the engineered front-end developers of our team with years of experience and proven skills.
Angular JS
AngularJS best fits the need for enterprise software, corporate web portals, apps, and other large-scale solutions. Our team effectively utilizes considering the power, flexibility, and significant visual impact it offers to the end product.
React JS
Our highly experienced team uses React JS to bring a straightforward user interface, efficient data processing, and improved software performance.
QWIK
QWIK is amongst the best choices of our developers, considering the quickest TTI it adds to our clients' products. As it focuses on resume-ability for server-side rendering of HTML and optimizes the speed of code loading.
Our Working Process
Our Working Process
Analysis And Research
Here, our team does the necessary research about the project and its requirements keeping in view the client's demand.
Define Your Goals
This is where the team defines the project goals, its target audience and its use by them through complete front-end development.
Monitor The Result
Testing, one of the most crucial part of development, is then carried out by our Quality Assurance Engineers.
Case Studies
Looking for a team who could help you meet your app development requirements? Here's how we have helped various entrepreneurs in their journey.
BusRoute
Busroute.co offers bus booking and coach booking services in Uk. Like any business, they were operating using excel sheets. Vizteck started complete automation for its backend customer relationship management and supplier connections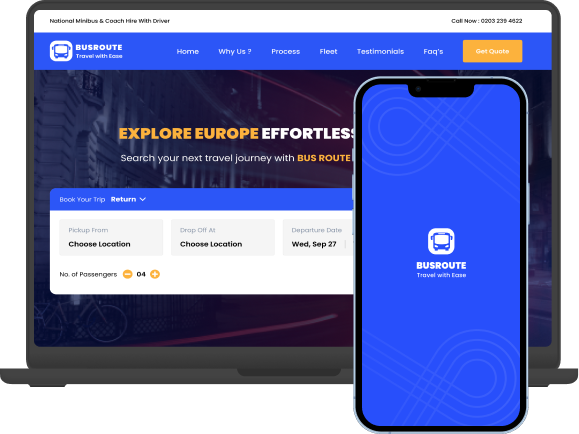 Afroqliq
Afroqliq is an e-commerce grocery and food delivery company for the African and Caribbean communities in the United Kingdom. It allows shop owners and restaurants to list their products on the platform. The app takes orders and orders are sent to drivers who pick them up and deliver them to customers. Customers get live tracking of all their orders.