 Backend Development Company
Bringing you the most out of our backend development services for your business needs through our engineered team.
Trusted by:
Backend Development Services
Our team is offering its years of experience in Node.JS to make your project performant, secure and resilient.
Node.JS
A server environment based V8 JavaScript engine used by our team to develop cross platform apps, websites and back-end API services. Through this, we ensure that your software has outstanding performance and adaptivness.
Amazon AWS Cloud Services
Vizteck Solutions provides great access to the world-famous Amazon AWS Cloud Services. So, create APIs and databases with Node.JS and start your amazon journey with us today.
Google Cloud Services
Vizteck Solutions is a master in Application Development. Therefore, we accompany our clients on every stage of their cloud journey.
Our Working Process
Our Working Process
Analysis And Research
To implement a product idea, our team begins with analyzing and researching the idea.
Implementation
Once analyzed, our team starts its implementation process.
Monitor The Result
The created product is consistently monitored by the team to check the working of applied services.
Case Studies
Looking for a team who could help you meet your app development requirements? Here's how we have helped various entrepreneurs in their journey.
EaseFix
Easefix is a handyman, plumber, electrician, and platform for finding trades servicemen of all types. The platform is currently targeting the UK market. Vizteck Solutions created the app to find workers, workers bid on the job. A complete SEO-optimized website was also created to generate leads for the business via the website. All website leads directly go into the worker's applications to bid on.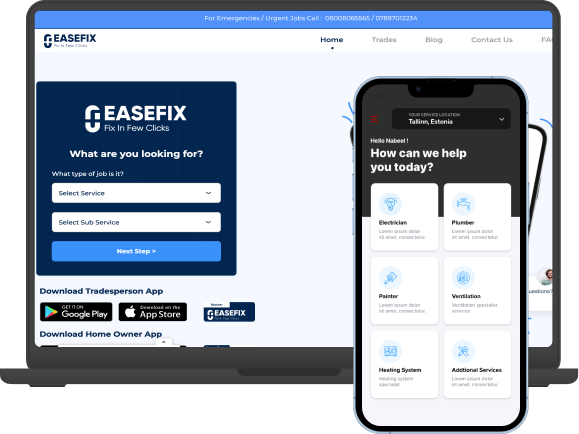 Afroqliq
Afroqliq is an e-commerce grocery and food delivery company for the African and Caribbean communities in the United Kingdom. It allows shop owners and restaurants to list their products on the platform. The app takes orders and orders are sent to drivers who pick them up and deliver them to customers. Customers get live tracking of all their orders.